The Trans-Canada Trail
The branch of the Trans Canada Trail that goes north and eventually will reach the Arctic Ocean passes by Tugaske. The establishment of our section of the Trans Canada Trail is under work, and soon you will be able to enjoy it!

Highlighted on the map is the proposed route of the trail in the R.M. of Huron. For more information about the Trans Canada Trail, visit the Trans Canada Trail website at http://www.tctrail.ca/
How To Get Here: Tugaske is located less than two hours away by car from Saskatoon or Regina. From Moose Jaw, it's a 50 minutes drive.
The village sits by the provincial highway 367, which access highways 19 to the northwest, and highway 42 to the southeast.
To get here from the capital of the province, Regina, take the Trans Canada Highway 1 to Moose Jaw, and from there provincial highway 2 to the north. Turn west on highway 42, and after Eyebrow turn right (north)on highway 367.
From Saskatoon, you can either:
continue on Lorne Avenue to highway 219, all the way to highway 15. Turn east at this junction, and then south on highway 19. After crossing the Qu'Appelle Valley turn east on highway 367.
or take highway 11 to Regina, turn west on Davidson on highway 44, south to highway 19, and then east on highway 367 after the Qu'Appelle Valley.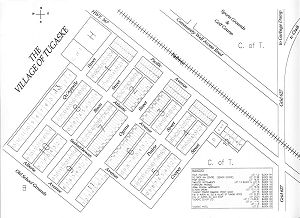 Map of Tugaske - Click Here for More Information

Carreganna trail



West side of TransCanada Trail